Maggie, and Other Happy Accidents
How a Self-Taught Baker Booms in Utah the Business
DELICACY BY DEFAULT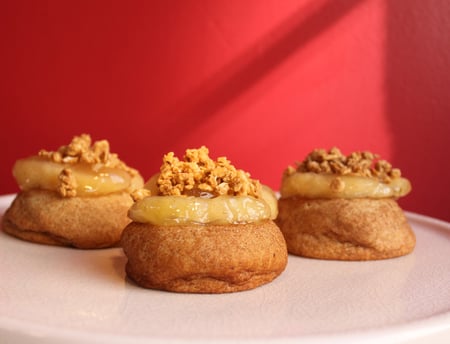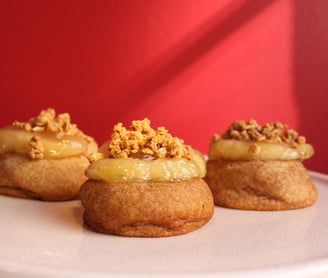 Tami Steggell, proprietor of RubySnap Bakery in Salt Lake City, Utah, says she is constantly experiencing "happy accidents": cookies with the tastiest flavor combinations resulting from experimenting with ingredients that are foreign to the typical cookie. Have you ever met up with dried mangos and chocolate in a citrus cookie dough, or a cinnamon cookie with a mint milk chocolate center? You will at RubySnap – under the names "Viviana" and "Margo," respectively.
And there's others. Like Zoey, a blueberry lemon chia with a fresh-squeezed lemon glaze, and Autumn, made of roasted butternut squash, with a spiced mascarpone, topped with a hazelnut and dusted with cinnamon sugar. It's the "cookie of the month" for October. Upon creation, Steggell christens all her cookies with popular female names from the 1940s and 1950s to match their individual and unique "cookie personalities."
It's a tradition since Steggell opened her doors in 2008 to sell original, gourmet fresh cookies and frozen-to-bake-at-home cookie dough balls. The cookies are widely known now, not only by Salt Lake fans but to cookie emulators in England as well. And just walking into Steggell's store is a recipe for unregretted indulgence, especially since you won't find every recipe in-house at RubySnap every day.
While Steggell has invented 56 cookie recipes, she currently offers only 41 of them to the public. Some have either been discontinued for a time, or are on hold for the future. But each one has been thought up and created by Steggell--some of which she says have been easier than others to perfect.
Apple Cookie Turned Strawberry Peach
Steggell had never tasted an apple crumb pie cookie, but it sure sounded delicious, so she set out to make one. "The trick with apple is to get the flavor to pop and stand out without too much manipulation or enhancements," Steggell says. "Every attempt to make a lovely apple cookie failed because all the flavor would evaporate off in the baking process, leaving a fairly boring average cookie in the wake. So after several attempts I gave up on apple and moved on to strawberries."
Steggell is a self-taught baker, and so having something not turn out the first time is something she's used to – in fact, she says these "happy accidents" are stepping stones for something greater to take place. Her next version of the cookie used dried strawberries, with a dough rolled in graham cracker crumbs--a stretch for Steggell, who typically does not add packaged goods to her cookies.
"After several attempts, I introduced this dried strawberry cookie to the public in 2009 despite my hesitation," Steggell says. "The public liked it, but I was sorely embarrassed! I likened my creation unto a packaged product. Not my market! Not my idea of amazing! So I pulled it. Then it occurred to me, September peach season! There is no law saying I have to use apples just because it is also apple season."
Steggell went at it again, this time using both fresh strawberries and fresh peaches in the dough. "When the fresh fruit bakes, it percolates and creates an airy and light cake-like cookie that is fresh and clean and collapses in your mouth," Steggell says. Next, she says, was to imagine what the frosting would be like to give it eye appeal. She found her inspiration while enjoying the local fresh Slide Ridge Honey and chevre from Tony Caputo's in Salt Lake City.
"The next evolution was to make a honey goat cheese frosting for the top and celebrate it all by topping off the cookie with a fresh strawberry," Steggell says. "[This was] such a happy accident, because we now boast to the public a uniquely different and completely original cookie named "Maggie": a fresh strawberry peach with a honey goat cheese frosting."
Steggell didn't stop with Maggie. She revisited her original idea about a year later and created "Dani"--a delicious apple crumb pie cookie. She kept the apple's flavor by keeping it on the outside of the dough. Dani is a vanilla bean snickerdoodle covered with freshly picked apples and a traditional crumb pie topping. Two cookies for the price of one? Yes, please.
The Architectural Design of Cookies
Steggell's happy accidents don't just happen during the baking processes. She was actually a practicing architectural designer before she came into the bakery biz as a profession. So, you could say even the bakery itself came about by chance.
That's because architecture sparked her creative juices in the kitchen as well, but she kept her cookie and chocolate confectionery recipes a secret in hopes of opening her own bakery one day. But it was just a dream, until it became a necessity. "My industry was undergoing some rough times after 9-11 and frankly I was working much too hard for far too little income," Steggell says. "So I jumped ship and became a stay at home mom. Alas! A modern family struggles without two incomes, so I set a sail to find a solution and then I said to myself, 'Self! You have a lot of good cookie ideas. People claim they like them. Take a chance!' So I did. I took a conservative chance and it worked very nicely."
It worked nicely from the beginning and is a roaring success today. Steggell and her team sells approximately 30,000 dozen cookies per year out of her retail store (that represents 140,000 pounds of dough). And her ovens are baking more than 200 dozen cookies per day.
A Bigger Game, a Better Name
Another happy accident along RubySnap's path included a name change – something many companies do, but not always because they are forced to do it by big corporations. But Pillsbury filed a case against the bakery, then called "My Dough Girl," for copyright infringement, claiming her shop's name was too close to their trademarked "Pillsbury Dough Boy" character. Steggell refers to this as "the trademark accident," and says it is the best happy accident yet.
"This one was a gift," she says in retrospect. "Someone wants to take your name away!? It is shocking at first. But in the end it can be the best back-handed compliment that you earn. It means to someone you are a threat, that someone doesn't want to lose business to you. [It's] part of the beauty of free market enterprise. Competition either forces us to be better, or point fingers. Let us all choose to be better."
And that's precisely what Steggell did. She even opened up her new naming process to the public, encouraging them to suggest ideas. Doing this, she wanted to draw on her original connection to attaching pin-up girl names to her cookies. That originated from the concept her cookies are "natural beauties," curvy and made with all natural ingredients, but with imperfections too—similar to the pin-up girls of the 1940s and 1950s.
Pin-up girls were popular in the 1940s and 1050s, during the time female servicewomen were called "fly girls." That's how she came up with her first business name; dough girl was a spinoff of "fly girl," because Stegell's cookies were "dough girls."
"We wanted to combine a female name and a phrase from the 1940s to create our company name that sounded like a call name of a female flyer from WWII. For example, LillyTango," explains Steggell. She came up with about 350 names. She finally decided on RubySnap. "Ruby signified our corporate color and also became the new face and voice of our logo," Steggell says.
"Ruby the color and name, now turned our logo into a mascot with a voice to talk to the fans on social media. Snap was reflective of our personality and 'sass-o-frass,' as we call it. We want to present ourselves as happy, spunky, fun, and playful. The real intent was to stay away from food references, [but] unbeknownst to our clueless subconscious, the public immediately thought we were making a play off the gingersnap," Steggell says with a laugh. "Oh well, we are in love with our name and glad we settled upon it. We feel it encapsulates our branding to the fullest."
Steggell says she learned a lot from her renaming experience. "My original name wasn't that unique, it did not set me apart as distinctively different or inventive," Steggell says. "The gift of controversy pushed me to set myself, company, and branding apart from the norm and rise above average. It's like exercise, it's not always enjoyable, but it's really good for you!"
That's something to keep in mind when you meet the rest of the happy, spunky, fun, and playful cookie "personalities" at RubySnap. And when the shop assistants cut you a full-quarter slice of any cookie sample you wish, just for polite introductions.
Candace Little is a business magazine editor turned mom/food editor. She lives, bakes, and eats in Salt Lake City with her husband and two kids.

The "Dani" Cookie -Photo Courtesy of Ruby Snap Cookies
The "Maggie" Cookie -Photo Courtesy of Ruby Snap Cookies