Team Teague
Dog Therapy Duo are People Watchers with a Purpose
PHILANTHROPY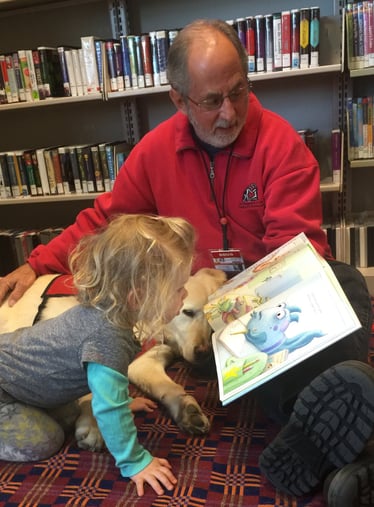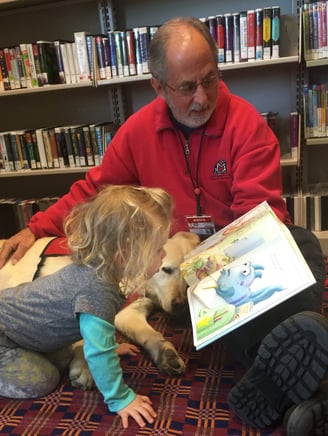 After serving 56 years (essentially) in his field, Lincoln Teague still gets up in the morning and goes to work. And today, like every day, his job starts out by watching—Lincoln is, fundamentally, a watchdog. He's at a local hospital, hanging out at the information desk, when he spots a tiny girl. Lincoln stretches his neck until Doug Teague, Lincoln's human, feels the leash pull. "What do you see Lincoln?"
Lincoln is not a watchdog to guard against trouble. Nor does he hunt game. Rather, this yellow Labrador, golden retriever mix "watches for souls he can connect to and support," explains Doug, his team partner, about Lincoln's role as a certified, licensed therapy dog with Intermountain Therapy Animals (ITA), Salt Lake City, Utah. Lincoln's eight dog years visiting facilities are his physical equivalent to what would be 56 years for a human.

"Oh, should we go see that little girl, Lincoln?" Doug asks. Following polite introductions, Lincoln is on his A game, letting the little girl love on him.

Doug is helping Lincoln reduce his workload now, but purposeful "people watching" is so integral to who Lincoln is that no retirement party is scheduled yet. On days like today, Doug knows that a pull on the leash means Lincoln is still ready to work. "Lincoln is just a very relational dog – he has been from the very beginning," says Doug, explaining that's how he decided Lincoln might take to animal therapy work. "But I'm just Lincoln's designated driver, not his boss. This leash is our conduit for communication. So, when he's ready to retire, I'll know it."

For now though, three days a week, Lincoln still visits a local rehabilitation unit, hospice center, library and junior high school, providing relief as a reading or snuggling partner. He's clocked 5,000-plus hours on the job—all voluntarily. "There's quite an investment in time, work, and some money that goes into becoming a therapy dog," explains Colleen Baum, ITA Volunteer & Facility Services Coordinator. "Consequently, some teams make it and some don't. But Lincoln and Doug excelled above and beyond."

Beyond the Call of Duty
Baum says team Teague's level of dedication makes them a go-to team for mentoring other teams now. "You can tell which dogs like it and which ones are just prodded by their leader," says Colleen. "That's not Doug and Lincoln. They both have so much fun and are fun to watch."
Doug is sober, though, when referring to the reason Lincoln works. Most people they visit have challenges such as learning disabilities or behavioral health issues. "As a human I've watched doors open that our best human efforts alone couldn't open," Doug says.
That includes the door to an apartment at a retirement home where Ethel, a strong Scottish personality and avid artist, requested that Lincoln "sit" for her so she could paint him. Every week for several weeks, Lincoln became a Mona Lisa for Ethel. It was her last painting. She treasured the experience so much that the family invited Doug and Lincoln to place a flower on her casket at the end of her journey.
Lincoln's rapport-building skills are ageless. "We were in the volunteer office at the rehab center where Lincoln's eyes were fixed on a stuffed bear all morning," recalls Doug. "So the office gave him the bear and when we left, Lincoln spotted three siblings in the lobby. Lincoln's eyes locked on the youngest—she was maybe two years old. When their eyes met, he dropped the bear. The little girl picked it up and put it under her arm and Lincoln watched her and she watched him."

As Doug visited with the older siblings, the eye contact remained between Lincoln and their littlest sister. After a while, she touched Lincoln on the head. "He was still watching her and she said, 'Thank you' and they walked away." Doug's throat catches on the word "away." "It was a cause for pause," he says, clearing his throat. "It's a moment that brings a lump to your throat." For Doug, that one still does.

Lincoln loves his career, but also knows work-life balance. Back home, Doug says, he's just a dog who likes to take a swim or play with his stuffed animal collection. "He's my four-legged family member who I provide shelter and food for. I watch over him and in his own way, he watches over me."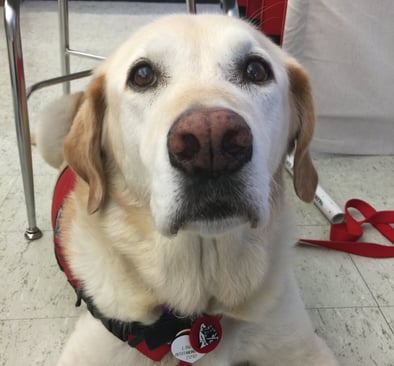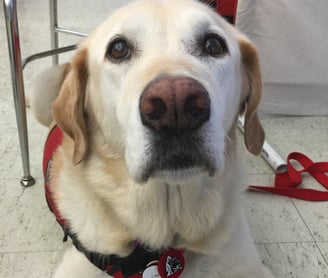 Lincoln Teague is a very good boy.
Doug Teague reads with Lincoln and a tot at Foothill Anderson Library in Salt Lake City, Utah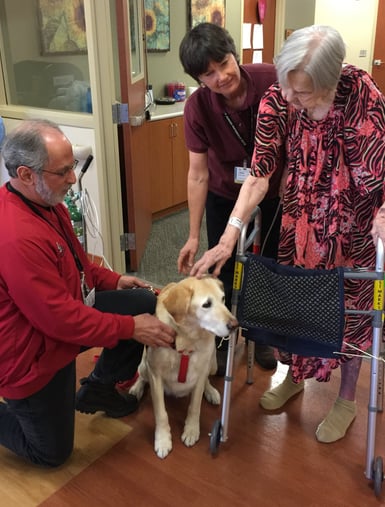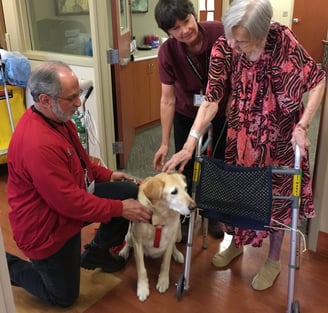 "I watch over him and in his own way, he watches over me." -Doug Teague about his dog, Lincoln
Photos by Linda T. Kennedy
Doug and Lincoln Teague also visit at a local hospital in Salt Lake City, Utah